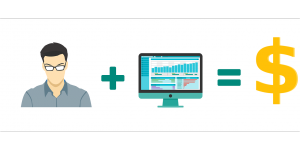 Today's I'm going to show you how to make money with your website. If you're looking for a "get rich quick" this isn't the post for you. What we're going to do is get a head start into making real money the right way! If you're ready to get visitors you might want to checkout our post here.
Echo Vision:
E-Commerce

Ad Revenue

Subscription Services

Affiliate Networks

Lead Generation
What you'll see next are simple breakdowns of each of the five ways to make money with your website. Keep in mind these are just starting points for each money making category. In future posts I'm going to break down each one into super details showing step by step how to win.
For now let's have some fun identifying each method, how they can benefit you and are they a good fit for where you are relative to your business savvy and financial status.
E-commerce
If you're looking to make some big money that can become your career from home here's the ticket. E-commerce as wikipedia defines


The benefits of having an ecommerce website are many.
Benefits:
Can be a VERY profitable business if run well and or create a new product with low competition.
Being a home based business is possible.
Do something you love by selecting from thousands of possible types of ecommerce industries and products to sell.
If successful can be a lifelong business, that can be passed down to your heirs.
You may be approached to bought out by bigger companies sometimes for hundreds of millions of dollars.
Pitfalls:
Requires a lot of attention, support and care.
You may need plenty of money to get started investing in the development of your website.
Marketing costs breaking into a competitive industry may be high.
Similar to running a retail store, managing products, employees, vendors, and shipping.
Ad Revenue
If you're looking to make money without spending much to get your website online you might consider going down the generating ad revenue route. Simply put that's when you place advertisements on your website either charging a small fee for the spot or charge every time an ad is clicked by a visitor.
It's super easy to get your website up since even a blog can generate thousands in ad revenue without much web development time. However, you need to have BIG visitor numbers to attract the type of advertisers that pay well.
Benefits:
Inexpensive website development costs & development time.
Can be a one person operation even when raking in hundreds of thousands of dollars per month.
Only requires getting visitors to earn you revenue.
Easily make money by getting visitors to view/click advertisements on your website.
There are hundreds of advertisement suppliers who will find the advertisers for you, so you can just sign up with them and they'll bring the ads to you.
Pitfalls:
You need to have BIG traffic usually in the tens of thousands per month to see any real profits.
Expect to make little to no money for a long time while you try to get visitor traffic.
You need to have content created on your website to draw visitors or give them reason to click your ads. This costs time and money.
Subscription Services
For these types of websites you charge visitors a recurring fee for access to premium content not available to those without a subscription. Sometimes called members websites, you can effectively sell anything you want behind that paywall. So in a lot of ways it's very similar to an e-commerce site in that you are selling a product, however that product is access to whatever content you want to sell. This is a very good way to get easy consistent money for in some cases you may just be selling just your own personal knowledge.
Benefits:
Consistent income earned by recurring payments.
The services you sell may be something easy like personal knowledge or even information that you did not create.
You can mix in ad revenue to maximize your visitor traffic increasing revenue.
You can easily setup a newsletter and sell products off of a simple website, charging via a PayPal link set to recurring payments for your services.
Pitfalls:
Some subscription services websites can be expensive and costs explode the more features you add.
Again you have to get visitors so you can expect to shell out money for brand building and online marketing.
You need to have content created for your members. With recurring fees you need to make sure this content is updated or great enough to keep their interest.
Expect to provide ongoing support, customer engagement, and product updates if you wish to have software as a service (SaaS).
Affiliate Networks
Affiliate networks are a simple and effective way to make some good money relatively quickly. With a creative mindset, persuasive writing and a little bit of luck you could create a very lucrative product line. Whether a vendor or reseller affiliate networks give you the freedom to make money without a lot of the costs associated with ecommerce.
Benefits
You can create a product or sell someone else's product easily sending your sales leads directly to the vendors landing page.
Affiliate networks provide the web hosting, website, and ecommerce software.
If you create a product to sell in an affiliate network you get a built in audience from their sellers marketplace.
If you create your own product you have a potential tens of thousands resellers for your product.
If you decide to resell a product you get to know ahead of time how well these product may perform.
You don't need to supply support for reselling products, saving you a lot of time and money.
Pitfalls
As a seller you have to give up a percentage of your profits to the affiliate network.
Getting paid can take weeks as each affiliate network has its own rules for shelling out money you make from selling products.
You still have to create your own website as many search engines or ad partners won't allow you to use the vendor landing page when advertising.
Lead Generation
If spending the time or a lot money on building your own website isn't an option maybe being a lead generation company might be your thing. Your job is to find sales leads for companies wherever you can find them online.
Benefits
You can be up and running today without the need for much investment.
You don't need to deal with the traditional support needs of an ecommerce business.
Referring friends and relatives could also make generating leads easy using existing social networks for traffic.
Pitfalls
You need to invest into a custom content management system to handle leads and clients which may have high up front costs.
You still need to get visitors to turn them into leads for your clients.
You may need to vet your leads to make sure they are high enough quality to sell to your clients, which takes time and money.
Content will still need to be created to attract leads and clients to your business. Expect to hire copywriters, web marketing and web designers along the way.
You will have to spend money before you make money attracting the leads before you have enough clients to resell to. This can be a challenge as you may end up sitting on leads that turn cold before you get the clients to sell your leads to.
Getting your website online
So are you can see getting a new business online to make money can be quite rewarding providing the freedom to work in any industry and from any location. If you invest into a professional website design company to handle the needs of development it makes your life that much easier. Make sure you utilize the strengths of those we have been in your shoes before, do your research and always find an industry to start in that you love. The money will come later after you put the time and effort into building a great business.
Save
Save